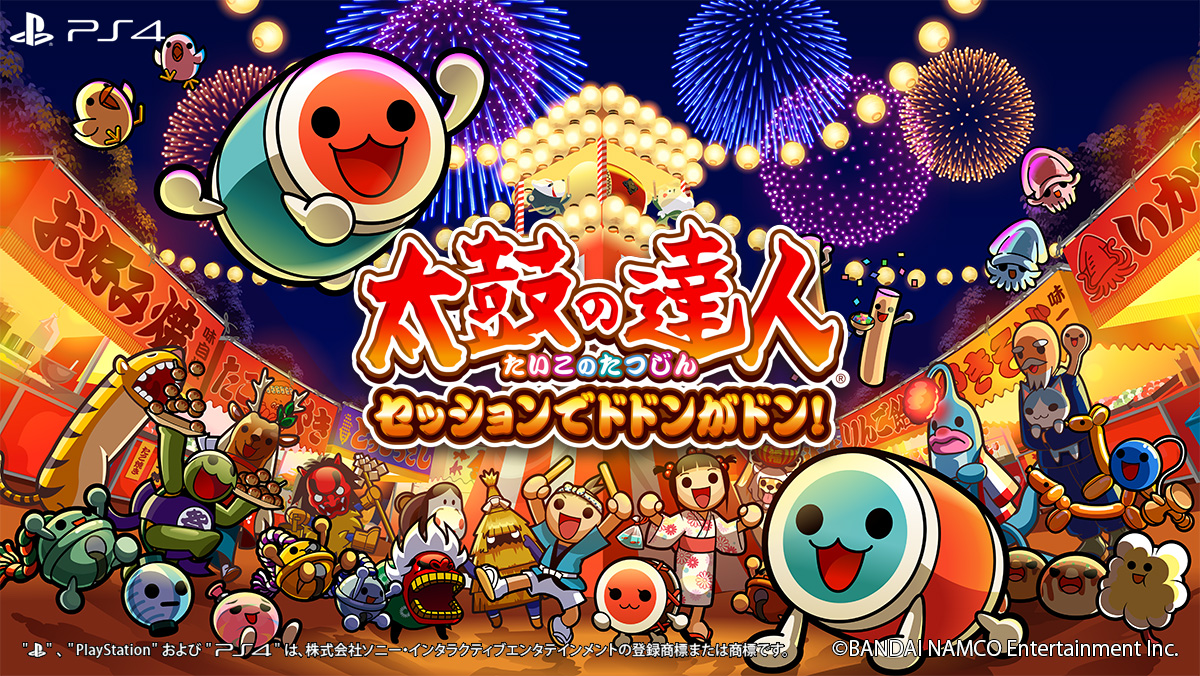 Released in 2017, this is the first Taiko no Tatsujin game that is made for the PlayStation 4 console family, over 10 years since the last Sony-rooted home console game... which is also fitting, considering that its subtitle is a nod to the one of the very first Taiko console title! Unlike with Tatakon de Dodon ga Don, however, this game's flagship newcomer feature is the Session mode set that is also mentioned in the subtitle, be it with a CPU-controlled guest character (Guest Session Play) or with the 'ghost play' data coming from users' PlayStation Network friends (Ghosted Session Play).
Feature-wise, Session de Dodon ga Don constitutes a stark change from the in-game/menu layout standards set with the Taiko 0 arcade line, as the aesthetics have been completely re-worked for the PS4 debut title. Many customization elements from the aforementioned arcade line have made their debut through the game's unlock system, including customizable titles/greetings (outside of former Rank-related promotions) and Petit Chara figurines from the arcades' Kigurumi outfit model. Session de Dodon ga Don! boasts over 70 songs at launch.
No. of songs
27 (total ???)
No. of secret songs
??
No. of songs with Ura
??
No. of downloadable songs




(includes temporary free songs)

??
Title
Zen Zen Zense (前前前世)
RADWIMPS
x3
x4
x6
x8 (video)
Road Movie (ロードムービー)
Yu Takahashi
x3
x4
x4
x5 (video)
Ashita Mo (明日も)
MUSH & Co.
x1
x2
x3
x2 (video)
RPG
SEKAI NO OWARI
x3
x3
x4
x6 (video)
Ninjyary Bang Bang (にんじゃりばんばん)


Kyary Pamyu Pamyu

x3
x5
x6
x8 (video)
Memeshikute (女々しくて)


Golden Bomber

x3
x4
x5
x8 (video)
Kiseki (キセキ)


GReeeeN

x3
x2
x3
x2 (video)
Sakuranbo (さくらんぼ)


Ai Ootsuka

x4
x4
x4
x8 (video)
Linda Linda (リンダリンダ)
The Blue Hearts
x4
x6
x5
x5 (video)
Natsu Matsuri (夏祭り)


Whiteberry

x3
x2
x6
x6 (video)
Tentai Kansoku (天体観測)
Bump of Chicken
x3
x5
x4
x6 (video)
Kurenai (紅)
X-Japan
x3
x4
x7

x8 (video)
Title
Yume o Kanae te Doraemon (夢をかなえてドラえもん)
x1
x1
x2
x4 (video)
Tonari no Totoro (となりのトトロ)
x2
x3
x1
x5 (video)
Let It Go ~Ari no Mama de~ (Let It Go~ありのままで~)


Frozen

x2
x2
x2
x4 (video)
Zenryoku Batankyu (全力バタンキュー)
Osomatsu-san
x2
x4
x6
x8 (video)
A Cruel Angel's Thesis (残酷な天使のテーゼ)


Neon Genesis Evangelion

x4
x4
x6
x7 (video)

Yokuoso Japari Park e (ようこそジャパリパークへ)
Kemono Friends
x2
x2
x4
x7 (video)
Title
Pen-Pinapple-Apple-Pen (PPAP) (ペンパイナッポーアッポーペン(PPAP))


Pikotaro

x2
x4
x4
x7 (video)
Night of Knights (ナイト・オブ・ナイツ)


Touhou Project Arrange - Beat Mario

x4

x6

x7

x9 (video)

Vocaloid

(2 songs)
Title
Ghost Rules (ゴーストルール)
DECO*27 feat. Hatsune Miku
x3
x5
x5
x8 (video)
Roku-Chounen to Ichiya Monogatari (六兆年と一夜物語)
kemu feat. IA
x3
x5
x7
x9 (video)
Title
Carmen Prelude (カルメン 組曲一番終曲)


Bizet

x3
x5
x5
x7 (video)
Heaven and Hell Overture (「天国と地獄」序曲)


Jacques Offenbach

x4
x4
x5
x6 (video)

Game Music

(2 songs)
Title
Tales of Berseria Medley (テイルズオブベルセリアメドレー)
x?
x?
x?
x?
KAGEKIYO


~Genpei Toma Den Medley~ (~源平討魔伝メドレー~)

x4
x5
x7
x8 (video)
| Title | | | | |
| --- | --- | --- | --- | --- |
| Tsunagare! Hinogare! Uchi-agare! (つながれ!ひろがれ!打ち上がれ!) | x? | x? | x? | x? |
Back to console Taiko list